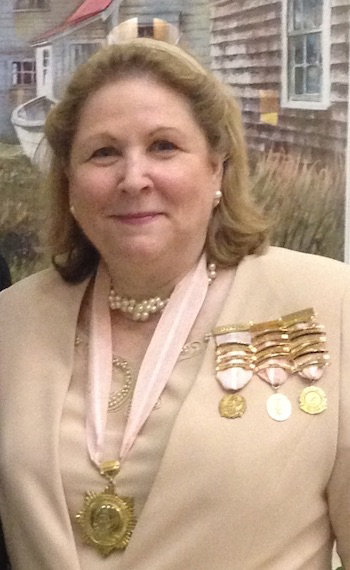 Lea Sinclair Filson was born in Salem, Illinois to Gerald Gene Sinclair and Ellen Idean Moore. She graduated from Eastern Illinois University with honors, earning both her Bachelor of Arts and Master of Arts degrees in speech communication. In addition to her work in genealogy, she has been a television anchor, radio talk show host, and is now President/CEO of See Plymouth the official tourism organization for the town and county of Plymouth, MA. She resides in Plymouth, MA on Leyden Street, known as the oldest Main Street in America, on the location the Mayflower Pilgrims settled.
Lea Sinclair Filson is President of the National Pilgrim Memorial Meetinghouse Charitable Trust and is a former Governor General of the General Society Mayflower Descendants (GSMD), the prestigious international organization that has recorded lineal descent to the Mayflower Pilgrims since 1897. During her tenure, the Europe Mayflower Society was chartered with membership from seven countries. She is known for advancing and expanding the mission of GSMD through partnerships in the areas of lineage research and DNA with New England Historic and Genealogical Society, Family Search, many of the Mayflower Family Societies and others.
She is descended from Mayflower Pilgrims Isaac Allerton, Mary Norris Allerton, Mary Allerton Cushman, Degory Priest, Stephen Hopkins, Elizabeth Fisher Hopkins, Francis Cooke, and Edward Doty.
She is author to numerous articles about the Mayflower story, and has been featured on CNN, FOX Nation, BBC, and PBS. She has been quoted in the New York Times, Washington Post, and USA Today. She regularly writes for the Mayflower Quarterly Magazine.
Memberships:
National Pilgrim Memorial Meetinghouse Charitable Trust (President)
General Society Mayflower Descendants (former Governor General)
Massachusetts Mayflower Society (Governor)
New England Historic Genealogical Society (Councilor)
Plimoth Patuxet Museum (Chairman's Society)
Pilgrim Society (Life Member)
Plymouth Antiquarian Society (Life Member)
Descendants of Cape Cod and the Islands
National Gavel Society
Duxbury DAR
Colonial Dames XVII Century Robert Ruffin Chapter
Clan Sinclair
Louisiana Mayflower Society (former Governor)
Australia Mayflower Society
Europe Mayflower Society
Historic New England
Massachusetts Historical Society
Pilgrim Hopkins Heritage Society (former Governor)
Allerton Family Society (former Deputy Governor)
Pilgrim Francis Cooke Society
Pilgrim Edward Doty Society
New England Historical Society
Other Organizations:
Board of Plymouth 400 Commission
Member of Plymouth 400th Anniversary State Commission
Advisory Council on Travel and Tourism, appointed by Charles D. Baker, Governor of MA
Massachusetts Marketing Partnership, appointed by Charles D. Baker, Governor of MA
Head of Plymouth County Regional Tourism Council
Board of Plymouth Area Chamber of Commerce