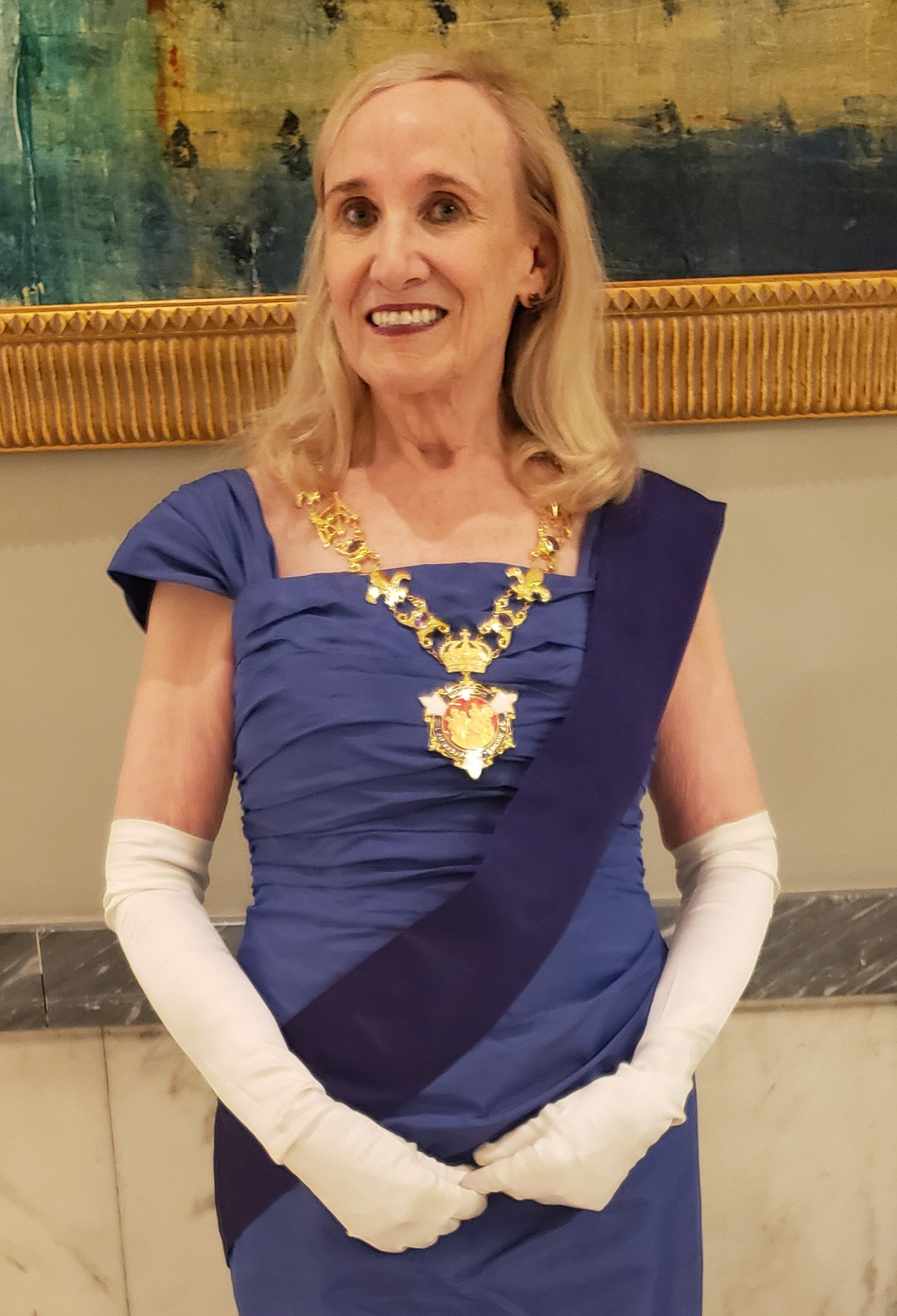 Patricia Porter Kryder, the daughter of the late Marguerite Patricia Porter and George Monroe Kryder, Jr., was born in Akron, Ohio. She was married to Albert Franklin Ganier, III of Nashville, Tennessee, with whom she had three daughters, Patricia Porter Ganier Zone, Alice Anna Ganier Rolli, and Kathryn Kryder Ganier O'Connor.
Patricia is the great granddaughter of Lucy Hubbard White Williams and Judge William Brown Williams of Lapeer, Michigan. Lucy was active in the lineage societies in Michigan as early as 1901, when she was a member of the Louisa St. Clair Chapter (Detroit, Michigan) of the Daughters of the American Revolution. Her parents were Enoch J. White and Elizabeth Worthington Gaylord, early settlers of Lapeer and the Michigan territory. Her grandmother was Martha Lamb White, coming from South Hadley, Massachusetts in 1833 as a widow with six young children to join her two sons, Enoch J. White and Jonathan Ripley White, who left Massachusetts in 1831 to build a new family home in the Michigan territory. Lucy was one of eight women to serve on the Board of the General Federated Women's Clubs in 1910, and as its treasurer, in the movement towards the 19th Amendment. Judge Williams, recognized for his comprehension of the U.S. Constitution as a living document in Haynes v. Lapeer Circuit Judge, 201 Mich. 138; 166 N.W.938; 1918 Mich. LEXIS 719 (January 22, 1918, submitted (Calendar No,28,152); March 28, 1918, Writ Denied, gave advice to the ladies to enable Michigan to become one of the first three states to adopt the 19th amendment six days after being sent out to the states by Congress.
Patricia's childhood education was in Akron schools, and thereafter she graduated from Denison University in Granville, Ohio with high honors in 1970, and secured certification to teach high school civics in Ohio. She was one of four women in the Vanderbilt University School of Law, Class of 1973, and then graduated from the University of Florida, School of Law Graduate Tax program with an LLM (taxation) in 1978. Patricia became the first woman partner of a major law firm in Nashville, Tennessee in 1982. She is licensed to practice law in Florida (1973), Tennessee (1974), The District of Columbia (1979), and is admitted to practice in all courts in Tennessee, the U.S. Tax Court, District of Columbia Court of Appeals, and U.S. Court of Appeals, Sixth Circuit, with a primary focus on tax planning and general business law, including non-profit 501(c)(3).
Memberships
Daughters of the American Revolution (Recording Secretary General Francis Nash Chapter, Nashville Tennessee; member of the Nipissing Chapter, Lapeer, Michigan, Nipissing+-100th anniversary-2017; Great Grandmother-Lucy Hubbard White Williams, Founding Regent)

National Society Colonial Dames of America+ (Registrar; Nashville Town Committee)

Society of Mayflower Descendants- (Michigan Chapter+)

Hereditary Order of Descendants of Colonial Governors+ (Councillor General)

National Society Daughters of Founders and Patriots of America (Michigan Chapter+)

Order of the Crown in America+

National Society Daughters of the Barons of Runnemede+ (Corresponding Secretary; Treasurer)

Society of Descendants of Knights of the Garter+
+ Indicates Membership follows Great-Grandmother, Lucy Hubbard White Williams.
Friends of St. George's Chapel at Windsor (Descendant Member)

The Ancient and Honorable Artillery Company of Massachusetts (Hereditary Descendant Member)

Ancient Heraldic and Chivalric Order of Albion

National Order of the Knights of the Golden Horseshoe (Chancellor General)

National Society Americans of Royal Descent

Order of Americans of Armorial Ancestry (Counselor)

The National Society Guild of St. Margaret of Scotland (Founding Chancellor General)

One Hundred Living Descendants of Blood Royal (Tennessee Regent)

Order of the Monarchs of Reims (Regent)

The Order of St. Denis (Founding Member; Vice-President)

Order of the Crown of Charlemagne

Dutch Colonial Society of Delaware (President)

Jamestown Society (Council)

National Society Sons and Daughters of Pilgrims (Counselor General)

Order of Medieval Women: Women of Consequence (Founding Chancellor General)

Order of Descendants of Colonial Cavaliers

Presidential Families of America (Tennessee Regent)

Governor William Bradford Family Compact

The Alden Kindred of America

National Society of the Dames of the Court of Honor

Sons and Daughters of the Colonial and Antebellum Bench and Bar 1585-1861 (Chancellor General)

Order of the First Families of Maine

Order First Families of Maryland (Deputy Gov. SE-USA)

National Society of New England Women (Tennessee Registrar)

National Society Daughters of the American Colonists

Descendants of Sheriffs & Constables of Colonial & Antebellum America (Chancellor General)

Guild of Colonial Artisans and Tradesmen 1607-1783

Order of the Descendants of the Justiciars (Chancellor General)

The Continental Society Daughters of Indian Wars

National Society Daughters of Colonial Wars

The Order of Descendants of the Ancient and Honorable Artillery Co, Inc. (Chancellor General)

Descendants of the Founders of Ancient Windsor

Order of the First Families of New Hampshire (Chancellor General)

National Society Sons and Daughters of the Pilgrims (Chancellor General)

Society of Middleton First Settlers Descendants

Colonial Dames of America (Strategic Planning Committee)

The National Gavel Society

Plymouth Hereditary Society (Chancellor General)

Society of Daughters of Holland Dames

Hereditary Order of the First Families of Massachusetts (Chancellor General)
Other
Retired Master, Member Master Foxhounds Association of North America (MFHA) (Retired Master, Mells Foxhounds, Lynnville, Tennessee)

Junior League of Nashville

Sponsor, National Debutante Cotillion and Thanksgiving Ball, Washington D.C.

St. George's Episcopal Church, Nashville, Tennessee

The Centennial Club, Nashville, Tennessee